Learn Excel Resources
---
Choose one of Bill's live Power Excel seminars near you
Check this list of MrExcel's upcoming appearances to see when Bill will be coming to your area. His "Power Tips and Tricks for Microsoft Excel" Seminar will dramatically improve your efficiency with Excel. These sessions are a great way to earn CPE credits!
Bring Bill to your site
MrExcel offers a half-day or full-day live Power Excel seminar. The seminar is perfect for a CPE day for the IMA, IIA, AICPA or any company that uses Excel regularly. The Excel training can be customized to focus on the tasks relevant to your industry or group.
Bring Bill to Your Desktop with His LiveLessons courses
You can watch and learn at your desktop in these streaming video courses taught by Bill Jelen:
Read a Round-up of New Excel Articles Each Day at Excel Daily News
Subscribe at Paper.ExcelDailyNews.com for five new Excel headlines delivered to you each day.
Search hundreds of Excel articles
Use the search box at the top right of this page to search hundreds of articles posted at this site.
Watch an Excel video on YouTube
Bill has 2100 short Excel videos on YouTube. Use the search box on Bill's YouTube channel.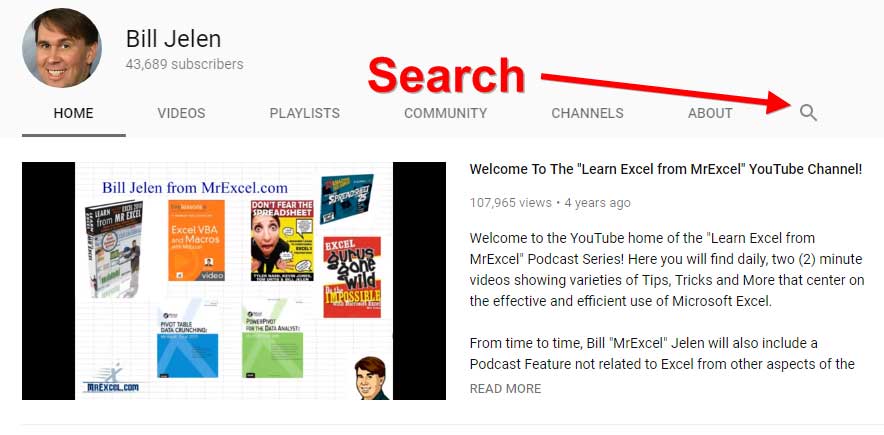 Project Specific Questions - Post them to the Message Board
The fastest way to get an answer to your Excel question or problem is to post it to the MrExcel Message Board. The Message Board is one of the most popular sections of MrExcel with over a million Excel questions asked and answered.
Hire an Excel Consultant
We don't do consulting, but we can refer you to someone who does. See our list of Excel consultants.
Learn Excel, Access, or VBA on your desktop with the Visual Learning CD-ROMS
If you are a visual learner, Gerry Verschuuren's training courses will bring you up to speed on Excel, Access, and VBA.